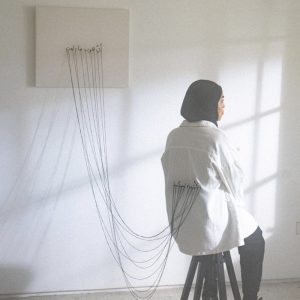 To escape? Whereas things dwell within us. (2021). Photo: Zainab Alsabba Instagram (2021)
Artform:
Conceptual Art, Installation, Typography

Material/Media:
Everyday objects, Canvas, Yarn

Guiding Interest:
Zainab Alsabba is a Bahraini artist and architect, whose work is associated with conceptual art and installation art as well. She uses art as a visual language to define her understanding of the concept of human's daily inner monologue of thoughts and feelings, and the mental dialogue that constantly goes on inside our heads that never stops.
Her distinctive artworks are comprised of the most ordinary and mundane objects that convey her message and the notion behind it.
The artist creates typography embroidered on canvas and extraordinary conceptual installation by incorporating inspirational objects particularly yarns, clock materials, and clothes hangers, which she transforms them into an imaginary story and visual meaning.
Since her participation in the Bahrain Annual Fine Art fair in 2018 as yet, she persistently thrives on her various installations and calligraphy compositions.
Quotes:
 "All different types of objects rounding me were accessible to everyone, I just reformulated them in my own way"
"Inspiration is a personal state, merging between the inner feelings and external circumstances that formed into a work of art. Simplicity in the final form may not convey all the stages that the artwork goes through"
Bio:
1996 | born in Bahrain
Conceptual artist – Architect
Formation:
2019 | Bachelor of Architecture | Bahrain University
Awards:
2019 | Bahrain | The Audience Award at the- 45 Annual Bahrain Fine Arts Exhibition
2018 | Bahrain | Third prize winner of  –  44 Annual Bahrain Fine Arts Exhibition
Written by: Sara Alhindi