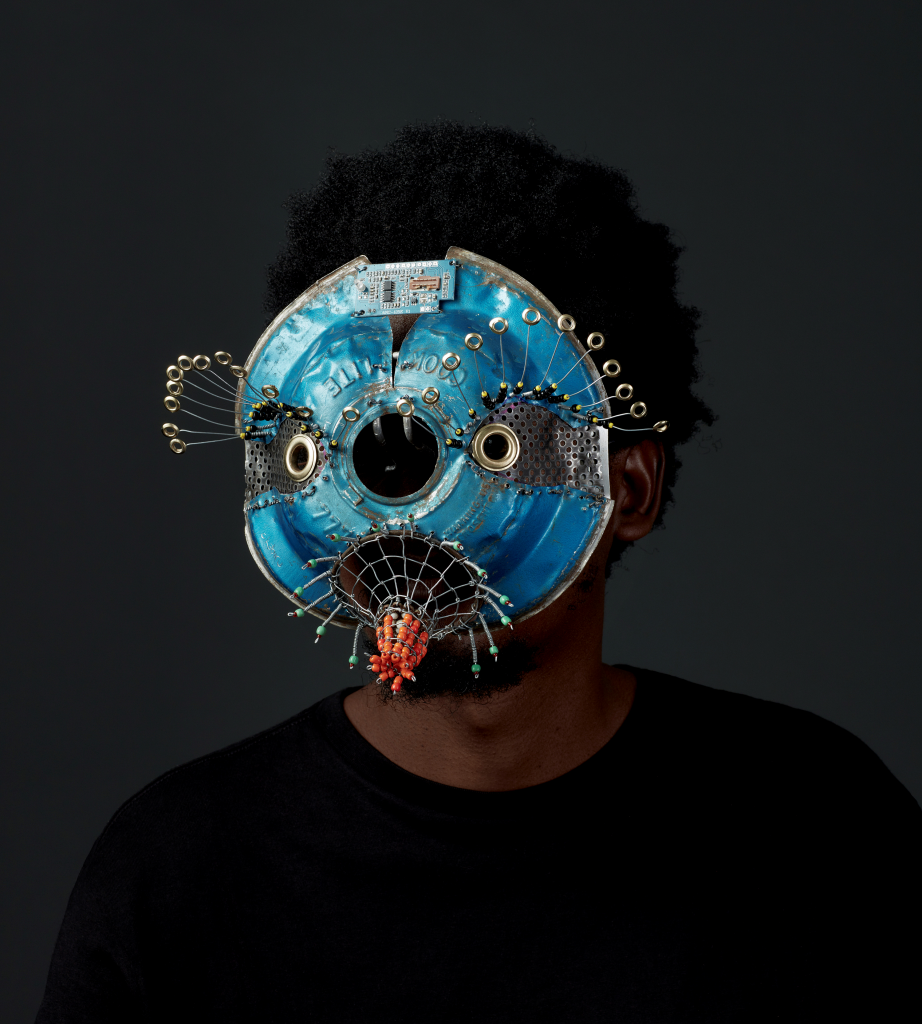 Slay Queen, 2018
Image courtesy of SMAC Gallery
Artwork copyright Cyrus Kabiru
The picture shows the artist Cyrus Kabiru wearing one of his artworks, SLAY QUEEN, in 2018. The piece is part of his collection of "eyewear" made out of urban trash, called C-Stunners. Mainly due to this collection, the Kenyan artist has been gaining international recognition in the past few years. His artistic approach grew out the constant confrontation with trash – he grew up just across the Nairobi dumpsite. Setting his heart on "giving trash a second chance", he made it the anchor of his artistic practice.
His art is concrete art, SLAY QUEEN is made to be enjoyed and experienced. It is simple, playful and personal. One is immediately reminded of one's one appearance – picturing oneself wearing that eyewear. At the same time, lurking in the background of the queen's face is the fact that the piece is made out of the trash that is polluting our world, out of the trash that is dumped in the Global South as part of the exploitative relationship between the economically developed and underdeveloped countries. Thus, it reminds us of our multi-layered existence and that objects can be playful and innocent that were actually born out of ecological disaster and social injustice.
SLAY QUEEN is made out of different discarded materials collected in the streets. Nearly covering the whole face, it consists of a silvery blue round metal plate on which other fragile pieces of metal, an electronic item as well as pearls are attached. The piece is of geometric clarity, yet with some playful elements. The dominating round silvery-blue circle is joined by fine wire, lending it an exquisite and seaworldly aura. The whole piece is reminiscent of a female face. "Slay Queen" is the slang word for a woman who boasts about her – real or made-up – flamboyant lifestyle on social media. The term can be, but not necessarily is, pejoratively used. In either case, it describes a proud woman, who enjoys luxury and beauty at any cost. In this piece, you can detect this fierceness, but also her soft and longing side. She seems to be looking tender yet determined into the future.
Cyrus Kabiru's strong conviction to do art is remarkable. Against all the odds of an uncomprehending social surrounding and economic precariousness, he pursued his path of becoming an artist. He even refused to be educated in the fine arts to prevent his own artistic style from being compromised by the expectations of others. His approach is intuitive. At the centre of his work is "giving trash a second chance", which allows unfettered conduct. That creates pieces with own personalities, unclouded by a narrative or theory. Rather, one is drawn to them due to their unpretentiousness and purity. It is their simplicity that makes them unique. Cyrus' pieces came into being out of the simple urge to create beauty. We can feel Cyrus telling us: "just look around yourself, there is beauty everywhere".
by Pia Stengl
Slay Queen
A round piece of blue metal, covering a man's face, only revealing a hair and a beard behind. The piece is assembled with other pieces of metal creating a pair of round eyes with long metallic eyelashes and something that looks like a mouth with the tongue out. 
Old, found objects put together in new constellations creates something new, and a new story is made out of the objects' past. There's no doubt they are made of trash. But the detailed and well-crafted assembling of pieces transforms it. SLAY QUEEN is a part of Kabiru's ongoing series of eyewears, called C-stunners. The size and looks of the pieces put it in between a usable fashion object, mask and sculpture – just as likely it seems, to be found in an avant garde futuristic fashion magazine story as in a collector's home.
The eyewears are mostly photographed on the face of the artist himself against a black background. It makes it easy to understand scale, and puts them in a narrative closely connected to the artist himself, profiling the man and the art at the same time. The art could in that sence be seen to be both the sculptures and the portrait series of the artist wearing them.
Seeing it as a mask also associates it to the tradition of crafted masks, used in ceremonies mostly in Sub-saharan traditional cultures. The ritual and transformational power of using objects is confirmed by the artist: "When I make these glasses I am Cyrus, the artist, but when I wear them I am a different person." 
In the new now, where the world has become bigger and smaller at the same time, daily walks in the limited area of a neighborhood may be a common experience. The same kind of walks, with attention to the details surrounding you, is where Kabiru since childhood has collected the trash he uses for his art. In the new now for people working from home, there's also the new constant reminders of the things you share your space with and that you use to stay connected to the world. Electronic stuff  discarded, or electronic stuff  working. Speaking for myself, I never turn them into new things (if anything I buy more stuff replacing the not yet thrown out discarded stuff). Kabiru's father refused to buy him glasses as a child, and did it with the words "make your own". That's what the boy Cyrus did, and continues to do.
Being drawn to things, people and objects of in betweenness, it's no surprise that I like Kabiru's hybrid objects. Objects that are fashion and art, materials caught between old meaning and new, a understanding of them between art and design, an object that hides a face but attracts attention at the same time. All these things combine, they represent a way of seeing things, people and objects as full of double meanings, and always on the move between layers and interpretations.
By Samira Bouabana